Full Mouth Dental Implants in Plainfield
If you have no teeth or very few teeth and most of them are in bad condition, a full mouth dental implant restoration might be the best way to recover your smile. Full mouth dental implants are one of the best treatment options for replacing missing natural teeth or those in bad condition due to decay or damage. With the right oral care and maintenance, full mouth implants can last a lifetime. At Magical Smiles in Plainfield, Dr. Puri is a board-certified Periodontist that specializes in full mouth dental implant restorations.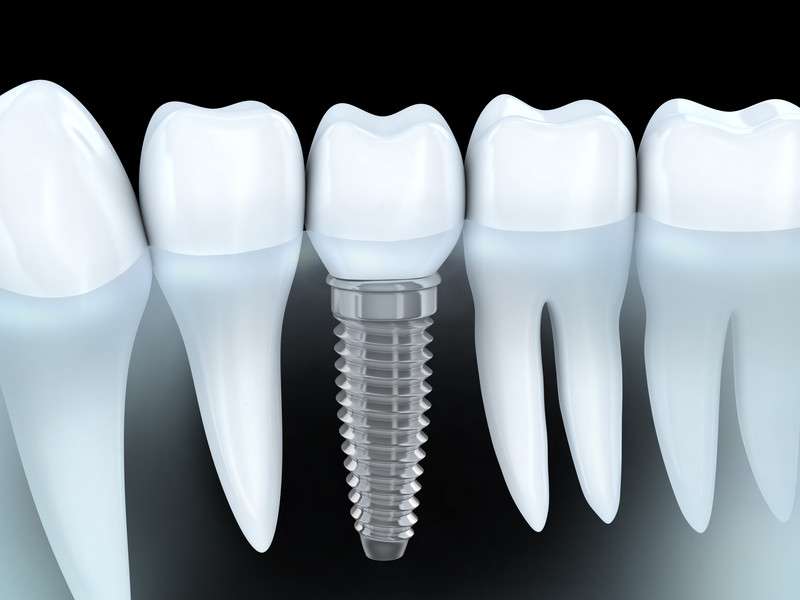 What are full mouth dental implants?
When you are missing most or all of your teeth, full mouth dental implants can replace your teeth, along with some of their roots. During full mouth dental implant surgery, Dr. Puri places multiple implants– usually four to eight per arch– that are then used to support a fixed bridge or fixed dentures. 
Unlike other types of traditional tooth restorations, like bridges and dentures, the replacement teeth look, feel, and perform just like natural teeth. Full mouth dental implants also have a high success rate and will last for 25+ years with proper care and follow-up checkups. 
As newer, more innovative versions of full mouth dental implants, All-on-4 and All-on-6 procedures eliminate the need to insert separate implants for each individual replacement tooth.
At Magical Smiles, our full mouth dental implants before and after pictures speak for themselves!
Full mouth dental implants process
A "one-size-fits-all" approach doesn't work for every patient. If Dr. Puri determines that you are a candidate for full mouth dental implants, this is what you can expect as the process plays out:
Digital X-Rays and impressions of your upper and lower jaws will be taken, along with a bite registration and possibly a CT scan. Dr. Puri will then use computer-aided design (CAD) technology to process all your information so that she will know precisely where to place your implants. The CAD mockup is also used to create a surgical stent.

During your next visit, Dr. Puri will complete your dental implant placement surgery. The surgical process may slightly differ depending on the type of implant used, for example one-day vs. two-stage:

One-day (Same-Day) –

As the name implies, the placement of the implant and   abutment is all done in a single step. Although this simplifies the procedure, special care while biting must be taken by the patient to prevent implant slippage.

Two-stage –

During this procedure, Dr. Puri first places the implant. After the placement, the area is sutured, covered with overlying gums (flap), and allowed to heal. Once the healing is completed (12-16 weeks), the implant is then re-exposed through an incision so the abutment can be placed. 

The implants fuse with the adjacent bone, a process known as "osseointegration," During that time Dr. Puri rechecks your CAD mockup and makes any necessary changes. Your overdentures will also be created, a process that may require office visits to confirm the accuracy of the manufacturing process. 

Once everything is ready, Dr. Puri will attach your overdentures onto the implants. One of our staff members will provide you with aftercare instructions for your new implants. 

To ensure optimal implant performance and longevity, Dr. Puri will want to check your implants every six months. Regular dental cleanings and checkups are also highly recommended. 
Why they are a good choice
Full mouth dental implants offer these advantages over traditional teeth-restoration treatments:
Better chewing efficiency
Reduced risk of bone loss
Improved durability and longevity
Comfort and convenience
Improved speech
More natural facial appearance
Full mouth dental implants cost
A single-tooth dental implant typically costs between $1,500 and $6,000 per implant, and that does not include the surgery itself, surgeon's fees, or any other procedure that's needed– like bone shaping or a tooth extraction.
The cost of traditional (two-stage) full mouth dental implants averages roughly $25,000, although the actual cost can range from $3,500 to $30,000 or more depending on variables that include materials. Newer All-on-4 implants cost anywhere between $20,000 and $35,000 per arch, while same-day full-arch dental implants run upwards of $30,000 or more.
Sometimes our patients are tempted to travel to Mexico for their full mouth dental implants simply because they cost less than here in the USA. What they fail to realize is that most dentists in Mexico who do implant surgeries lack the training and experience that a board- certified Periodontist like Dr. Puri has. Mexican dentists that commit mistakes while placing dental implants are typically not sanctioned as a result.
At Magical Smiles in Plainfield, our restorative dentistry solutions magically help patients achieve the smiles of their dreams. To learn more about full mouth dental implants or to schedule your free dental implant consultation with Dr. Puri, contact us today at 815-436-2406!