If you are missing a tooth that's affecting your comfort or confidence, a dental implant procedure could be the solution. Candidates for dental implants include those with one or more missing teeth, people who dislike dentures, or patients with a temporary dental fix. At Magical Smiles in Plainfield, Dr. Puri is a board-certified Periodontist and an Implantologist who specializes in all aspects of periodontics including surgical and non-surgical treatments of periodontal diseases, bone regeneration, soft tissue grafting, sinus augmentations and dental implants.
What are dental implants?
Dental implants have had a considerable impact on modern dentistry by offering patients a highly viable solution for replacing one or more missing teeth. A dental implant is essentially an artificial tooth that is surgically placed, or implanted, into your jaw. Once the implant (root) is ready, it is then capped with a dental crown, creating a complete new tooth that looks and feels like a real tooth. Better yet, the replacement tooth functions as seamlessly as your regular teeth.
Dental implants can replace:
Same day teeth and full mouth dental implant rehabilitation
Overdentures
Hybrid dentures
All on four/teeth express implants
Advantages of dental implants include:
By preserving existing bone, implants help stabilize your teeth. 

Implant rehabilitation enhances your facial structure and the appearance of your smile.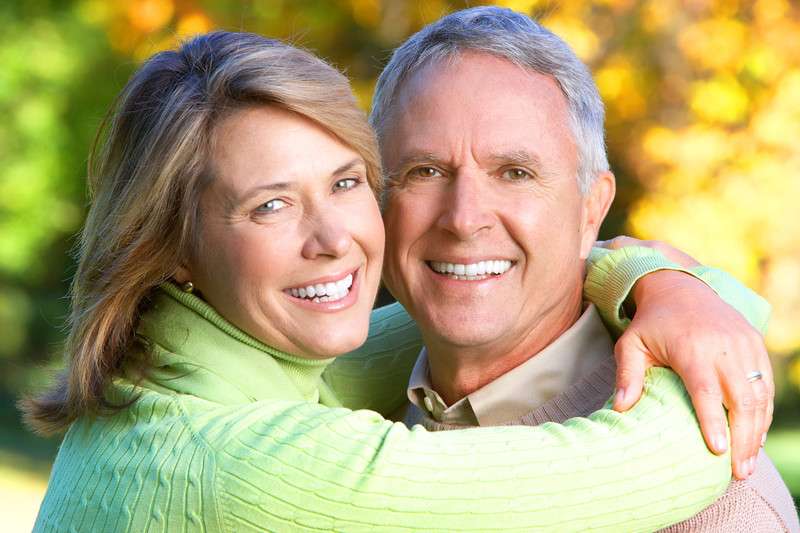 The truth about dental implants is the fact that not everyone is a candidate. The best way to determine if it's the right treatment for you is by scheduling a free dental implant consultation in our office with Dr. Puri.
What to expect during a dental implant procedure
1. Based on a thorough examination, Dr. Puri will do a computer-aided treatment simulation to determine where the implants should be placed for optimal support and comfort.
2. During a follow-up appointment, she will perform surgery under local anesthesia to place the implants. If an additional procedure such as a tooth extraction or bone shaping is necessary, Dr. Puri will perform those procedures before placing your implants. Once in place, your implants will then be fitted with temporary teeth so they can fuse with your jawbone (osseointegration).
3. During a 12- to 16-week healing period, you will be asked to avoid eating hard or chewy foods that could damage your new implants.
4. Once the process of osseointegration is finished (approximately 3 months), Dr. Puri will remove your temporary teeth and attach permanent replacement teeth to your implants.
5. Before leaving our office, you will be provided with aftercare instructions by a member of our team, You will also be asked to schedule a monthly follow-up appointments with Dr. Puri so that she can monitor your progress and check your implants.
6. Dental implant surgery recovery times vary depending upon the type and number of implants you received. In general, your recovery should be relatively quick with minimal discomfort.
Note: Magical Smiles also offers "same-day" dental implant treatments, including All-on-X dental implants. For more information about our dental implant options contact us today.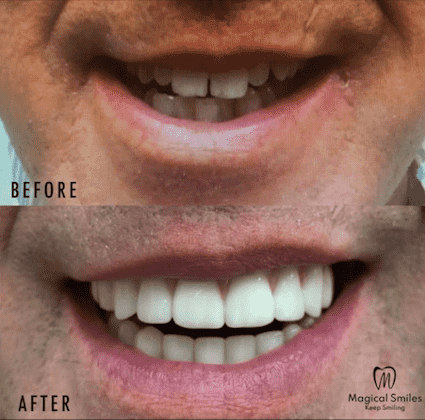 How much do dental implants cost?
The cost of dental implants varies and is dependent upon factors that include the type of implantation, any additional surgical procedures that might be needed, implant materials that are used, and dental insurance.
On average, you can expect to pay between $1,500 and $6,000 per tooth, while implant- supported full arch restorations (like overdentures or All-on-X4) can range from $12,000 to $25,000 per jaw. Full mouth dental implants typically cost upwards from $50,000 to $60,000 or more.
At Magical Smiles, we accept most major insurance carriers and offer financing through CareCredit, allowing you to make convenient monthly payments toward your dental implant treatment plan.
Call for a "FREE" consultation
At Magical Smiles in Plainfield, our restorative dentistry solutions magically help patients
achieve the smiles of their dreams. The first step is determining if you are a candidate for dental implants. To schedule your free CBCT scan and dental implant consultation with Dr. Puri, please contact us today at 224-328-3729