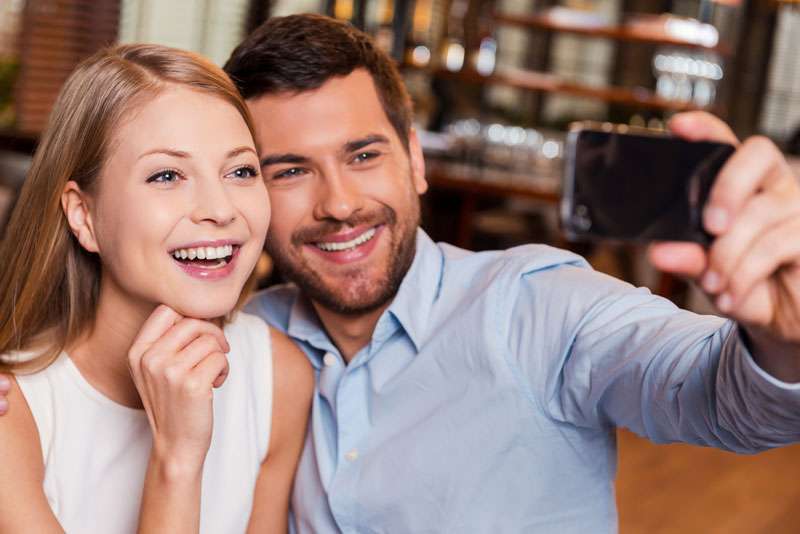 Being afraid to smile because of chipped, stained, or crooked teeth is no way to go through life. At Magical Smiles in Plainfield, we are committed to ensuring that your smile is the best and brightest that it can possibly be. Our practice provides a wide range of advanced cosmetic dentistry procedures that comprehensively aim to enhance your smile's appearance– allowing you to make a lasting first impression.
Cosmetic Dentistry Procedures:
Our highly trained dentists specialize in these cosmetic dentistry procedures:
Dentures & Partials – When you are missing one or more adjacent teeth, partial dentures (bridge) or complete dentures can be used as a replacement. Unlike your grandparents' dentures, today's advanced denture styles and materials can be customized to accommodate your aesthetic goals, lifestyle, and budget.
Dental Implants – Dental implants offer many advantages over conventional dentures or a bridge, including the fact they look, feel, and function more like natural teeth. As a premier replacement for one or more missing teeth, the prosthetic root of a dental implant holds it securely in place, helping to preserve existing bone in the area and prevent future bone loss.
Porcelain Veneers – If you have one or more teeth that are chipped, discolored, or misshapen, dental veneers are a reliable way to create the beautiful smile you've always wanted. Extremely strong and durable, veneers are thin shells of porcelain that are bonded onto the front of the teeth, creating an attractive, natural-looking smile that compliments your facial features.
Teeth Whitening – Over time, smoking, certain foods, and beverages can stain and discolor your teeth. At Magic Smiles, we offer both in-office (laser-activated) and at-home teeth bleaching products. With noticeable improvement after only one appointment, our professional teeth whitening services will leave you with a whiter, brighter smile that you can't wait to show off to others.
Lumineers – As an ideal choice for replacing defective tooth enamel, lumineers can be used to restore chipped, stained, or cracked teeth. Lumineers are a thin porcelain shell that are uniquely designed to perfectly fit your existing teeth. Each lumineer is bonded to the surface of your teeth, covering the visible areas so that when you smile your teeth will look beautiful and natural.
Orthodontics –  Orthodontic screenings at an early age help detect and prevent smile imperfections before they become more problematic. As a grownup, it's never too late to get the straight, natural-looking smile that you've always wanted. At Magical Smiles, we
offer comprehensive orthodontic screenings for children and adults.
Invisalign – When you have crooked or misaligned teeth, Invisalign clear plastic aligners are a more comfortable, less noticeable teeth-straightening alternative to traditional braces. Many of our Invisalign patients achieve their smile-restoration goals within 12 months or less. Not only does Invisalign allow you to brush and floss like normal, you can still enjoy your favorite foods and recreational activities!
What to Expect During Your Exam with Our Cosmetic Dentist
During your smile consultation appointment, Dr. Sharma will review your health history, discuss your smile restoration objectives, and provide you with an honest assessment. Depending on your personal goals, expectations, and budget, she will then patiently explain all your cosmetic dentistry treatment options and answer any questions you might have.
Pricing and Insurance
At Magical Smiles, we understand that every patient has unique financial circumstances. That's why our staff will work with you to find a payment solution that best meets your dental care needs. For your convenience, our office networks with a variety of insurance carriers. To learn more about your financing and payment options, please contact our office.
Get Started by Making an Appointment Today
At Magical Smiles in Plainfield, our cosmetic dentistry solutions magically help patients achieve the smile of their dreams. The first step is determining if you are a candidate for a cosmetic dentistry procedure. To schedule a smile consultation with Dr. Sharma, please contact us today at 815-436-2406.